Burkholder Family Funeral Home
Serving McBain, Marion, Tustin, Lake City, Cadillac, and Falmouth for more than 40 years.

Keith Burkholder has served families in McBain and the surrounding communities throughout the difficult process of saying goodbye to a loved one. A full-service facility, Burkholder Family Funeral Home is proud to offer conventional and alternative services in a comfortable new facility located in downtown McBain, MI. The fully handicap-accessible facility features a number of amenities. Upon entering, you'll notice a large area for luncheons and greeting that leads into the large funeral chapel for holding service, which includes a state-of-the-art sound and lighting and sound systems, and multimedia monitors. The building also houses a coffee room and ample parking. The Burkholders focus on accommodating their clients, and they will hold services at any time of day, on any day of the week. They understand how hard it can be for people to handle the high cost of today's economic conditions. The Burkholder family offers service that is unequaled at a cost that families can actually afford. Their personal values of honesty and integrity guide their business, resulting in a company that is identified by compassion and empathy.
When You Meet With Us
Chances are, within the first 24 hours of your loved one's death, you will need to meet with a funeral home to begin the funeral arrangements. While you could choose to meet with us, you could also decide to meet with another funeral provider. Either way, we will help you prepare for what is often called "the arrangement conference." Without a doubt, this is a difficult time for you and your loved ones. Yet, it's comforting to know every member of our funeral home staff will be there to do their utmost to make this difficult time a little bit easier. We will guide you in making all the necessary decisions. It's good to know you are not alone.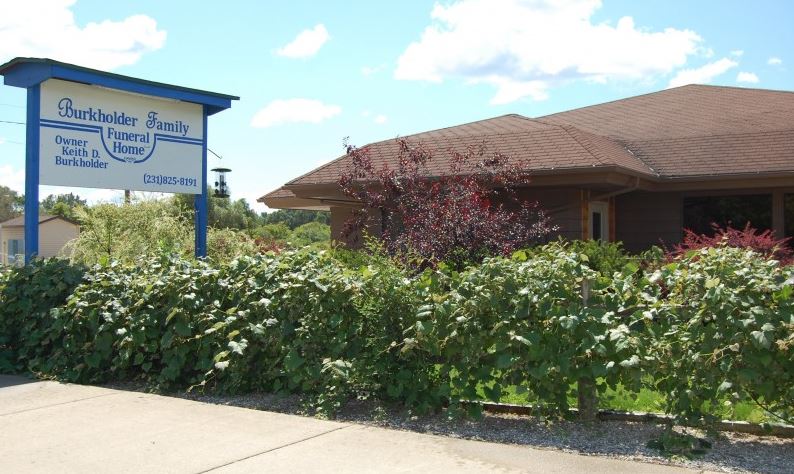 Helping You Plan

Are you looking to add a personal touch to your loved one's funeral service? Would you like to visit and meet with us regarding our services? Maybe you want to learn more about planning your own funeral. Call us today for a consultation regarding are services and we would be happy to anwser any of your questions or concerns. We can be reached at 231.825.8191.