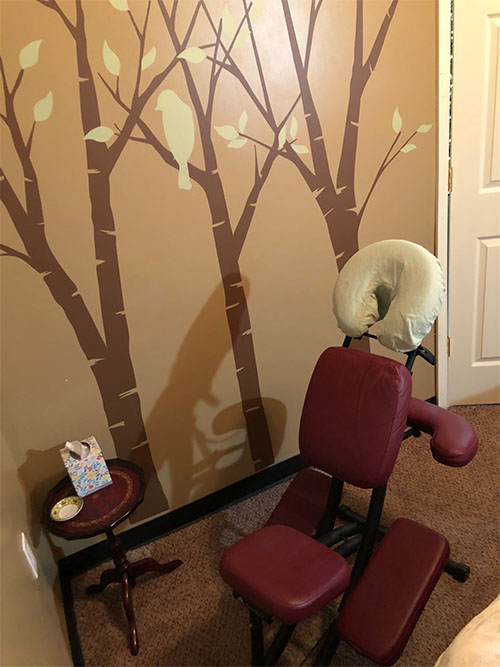 We are a full service Theraputic Massage Located in Downtown Cadillac, Michigan. We specialize in relaxation massages, deep tissue massages, chair massages, and have an infared sauna!

If you questions or concerns give me a call, and I would be happy to answer them. You can also book us for your next event or special ocassion; such as bridal showers, weddings, or corporate functions.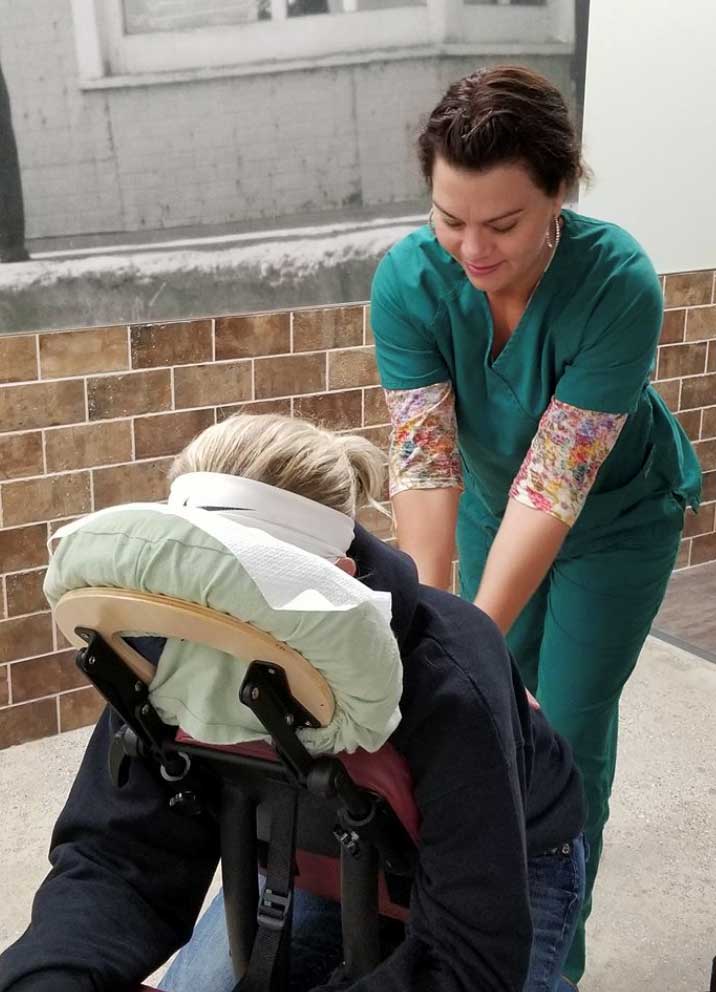 Benefits of Massage
Enhances relaxation, promotes well being and body awareness, supports immunity, decreases muscle tightness and restrictions, increases joint mobility and overall flexibility, improves skin elasticity, increases blood circulation, helps to detoxify the body.

Experience a Customized Massage Therapy


My mission is to provide therapeutic massage that is safe, and effective. I promise to listen to you, and work with you to tailor each massage session according to your individual needs. Communication about your therapeutic needs begins when the appointment is scheduled, you tell me what you want, what your expectations are and what areas you would like me to focus on and I will put my education, talent, and passion to work for you. Therapeutic massage is very personal, so feeling safe and secure is my number one goal. When you feel safe and secure you can relax and allow the transformation to begin. I am currently obtaining my certification in Craniosacral Therapy and expect to be certified by March of 2018.

You won't want to leave o You'll feel like a brand new you o Therapy- You'll receive a massage that is just right for you.

Relaxation Massage:Gentle full-body Swedish massage that uses slower & lighter smooth gliding strokes to promote a sense of wellbeing. This treatment is designed to sooth & relax you, not specific for relief of chronic pain or underlying ailments.

Deep Tissue Massage: Full body treatment that uses slow, firm strokes often used to treat a variety of physical ailments. With the main emphases being on the realignment of deeper layers of muscles and connective tissues along with the elimination of trigger points. This is especially helpful for those suffering from chronic aches & pains, muscle injuries & post surgery. Also aids in breaking up scar tissue. Available in 60 & 90 minute sessions.

Chair Massage: Chair massage is a type of seated massage done in a special chair. Typically done with your face resting in a cradle looking down towards the floor with custom supports for your arms. May also be done in alternative seated position. Chair massage is generally a 15-20 minute service focused on your neck, shoulders, back & arms. This type of service is great for winding down & de-stressing after a long week—ask me about special pricing for regular weekly appointments!




Infared Sauna

The Many Potential Benefits of Far Infrared Sauna Infrared therapy has been the subject of many clinical studies. It has been shown that far infrared has beneficial effects on the following: (add the "read more" clickable at the end of this sentence.

► Muscle and joint pain The infrared rays suppress cramping; relieves arthritis pain, muscle pain and rheumatism. By increasing circulation, infrared sauna sessions oxygenate and bring nutrients to the tissues. This results in relaxed muscles and more responsive, healthier functioning tissue.

► Calorie Burning/Weight Control A 30 minute infrared Sweat Session burns 300 to 600 calories! As the body works to cool itself, there is a substantial increase in heart rate, cardiac output and metabolic rate. The body's response to its core temperature rising results in safe, passive cardiovascular conditioning and potential weight loss.

► Cardiovascular & Blood Pressure Based on research studies infrared sauna sessions reduce the risk of cardiovascular disease (heart attacks, coronary vessel disorders, etc.). In addition, they lower blood pressure. The warming of the muscles produces a vascular dilation and causes an increase in blood flow; as in a physical training, vessel walls become more elastic. This process creates less resistance for the heart and therefore helps to safely condition the heart.

► Healthier Skin Improves skin texture, reduces wrinkle depth, gives a more radiant and younger looking skin, improves acne, pimples, blackheads, and dandruff. Helps to heal eczema, psoriasis, & helps reduce cellulite.

► Circulatory disorders The warming of the body through infrared rays produced a vascular dilation which stimulates blood circulation. It then denotes a positive improvement on people who always have cold extremities.

► Colds, Flu, Bronchitis and Asthma The infrared heat increases the body's resistance to infection and stop virus replication. The infrared sauna is proven effective in cases of pneumonia, bronchitis, colds and respiratory infections.

► Nervous System Disorders Infrared procedures have a calming effect on the nervous system against insomnia, stress, nervousness and nervous twitch.

You can plug in an iPod or listen to the room's built-in sound therapy soundtrack for an increased experience. Many people enjoy meditating during their session and most people receive a feeling of refocus by the end of the session. Make an appointment today for your health with far infrared or combine a session of 30 minutes of far infrared sauna to any massage to maximize the benefits. We recommend you take the sauna after your massage session.